Bedwetting Facts
Bladders can hold up 16oz of urine
---
15% of children ages 5+ still wet the bed
---
85% of children will outgrow bedwetting
---
Why Chummie Works
---
---
---

Chummie's quick 30-second set-up makes it the perfect bedwetting alarm. Chummie is equipped with a soft silicone sensor that comes with One Drop Detection® Technology that detects the very first drop of urine. Chummie alerts your child by using multiple loud tones, bright lights, and strong vibrations to wake up your child.
---

Chummie trains your child by conditioning the brain to establish a connection with your child's bladder. The bladder will send a signal to the brain telling the brain to retain urine until your child can void in the toilet. Once the bladder and brain has made a connection, your child will begin to wake up before the alarm goes off.
---
---

Within a few weeks, your child will be able to wake up before the alarm. After 14 consecutive nights of staying dry, your child may discontinue the treatment. However, do continue to monitor your child and provide positive reinforcements for a successful treatment.
---
SUCCESS!
After 14 consecutive days, achieve successful dry nights.
Accessories
Awesome Reviews and Testimonials
Where to Buy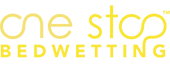 Follow our Twitter
Open in Twitter